Are you a client ?
You're having login issues ?
If you already have a factoring contract and cannot log in, we advise you to check your password and login. If you've forgotten them, please click on : Forgotten access codes
You're having technical issues with the website ?
Our Support team is at your disposal :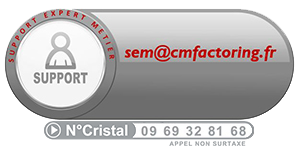 You have a question about your contract or your services ?
We invite you to get in touch with your Manager who is available to assist you and answer your questions.
You are not yet a client and would like more information about our offer ?
We advise you to visit our website which details our company-oriented financing offers and services for trade receivables. If you're interested, don't hesitate to contact our teams. You shall receive an answer within 48 hours.